Sunday, 09-May-2021 17:53:23 PDT
HTTP/1.1
Contact
|
Home
|
One
|
Two
|
Three
Tudor Manor Style
From a collection of favorite designs.Tudor homes are based on the architecture of England at the end of medieval times. The style evolved during the late 15th century and lasted until shortly after the turn of the 17th century.
The Tudors were the ruling dynasty at the time and members of the family included some of the most famous monarchs in English history. Henry the Eighth and Elizabeth the First were both Tudors, as was Mary the First - also known as Bloody Mary.
Half-timbered, stucco walls, turrets and steeply pitched roofs with cross gables are characteristics of the style. Windows tend to be very tall and panes very small; they're often leaded in a diamond pattern. Arched entryways and substantial chimneys topped by terra cotta pots are also common Tudor themes.
The half-timbering of Tudors is imitative rather than structural. In genuine old English half-timbered buildings the timbers were part of the post and beam framing - they held the house up. The spaces between the beams were then filled in with plaster and lathe and the faces of the beams left exposed.
In modern Tudors, the half timbering in merely embedded for decorative effect - recreating the post-and-beam look - and surrounded by stucco or brick walls.
---
Main Floor Plan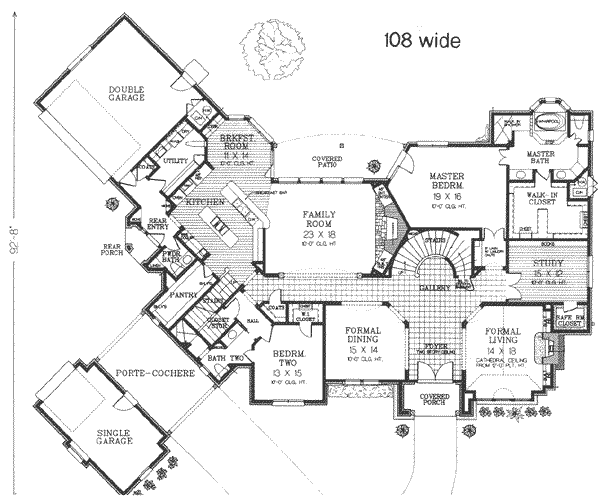 courtesy of plan copyrighted by designer
---
2nd Floor Plan

courtesy of plan copyrighted by designer
---
tudor types
Tudor houses come in several flavors. One subset, Jacobean, often incorporates columns and pilasters and flat, parapetted roofs.

Another, Tudorbethan, shows lots of half-timbering set off by pale-colored stucco or herringbone brick walls.

The complexity of the designs and details of Tudor homes make them relatively expensive to build. There are many angles and nooks and usually several different roofs. These are often very steep and time consuming to shingle. There are also dormers, gables of different heights, brick or stone work, stucco walls and wood trim, all of which are difficult to build.

Most Tudors exhibit good craftsmanship, as well as distinctive touches, such as stained glass, carved interior woodworking and wainscoting. Craftsman-style house designers drew some of their inspiration from Tudor techniques and features.

The style has retained much of its popularity, although, because of the expense, fewer are built today. But the ones that come on the market often command a price premium above their sometimes blander neighbors.

An attractive Tudor design conveys substance, gravity and security. The style has a solid feel to it and the arches, built-ins and fireplaces Tudors usually feature give the houses warmth. The medieval look feels like a bulwark against a dangerous world. You feel safe inside its thick walls.
Find your dream villa at
Houseplans.com

Bob Seabrook has over 40 years experience in ICI and Residential construction. A past member of the Canadian Construction Association, building for Fortune 100 companies and private individuals , working with owners, architects, designers, and engineers.
His customers receive help with specifications, samples, prototypes, and budgets. more here.
specifications
Total sqft 5354

Main Floor 3920

Second Floor1434

Garage 864

Porch 226

Bonus Floor 427

Bedrooms 5

Bathrooms 4.5

Levels 2

Garage Stalls 3

Bldg. Width 108'

Bdlg. Depth 93'

Ceiling Ht 10',9'

Roof Pitch 10:12 8:12
---
features
storage area

unfinished/future space

oversized garage

loft / balcony

suited for view lot

kitchen island

unique features

courtyard

walk-in closet

master sitting area

peninsula/eating bar

volume/vaulted ceiling

main floor master bedroom

side-entry garage

teen suite/Jack & Jill bath

family room

nook / breakfast area

suited for corner lot

friend's entry

walk-in pantry

den/office/computer

main floor bed & bath

open floor plan
---
choosing your lot
Investigating a lot is a fundamental and challenging activity in the organization and execution of construction projects.

It is a step-by-step process that includes soil testing, identifying environmental concerns, and how utilities will run within the home.



Each step will be carefully investigated and eventually will go through a process of approval, and finally put into action.



It is important to select your lot wisely because site conditions affect your design and the cost to build it.



Soil testing is an important tool in identifying and developing efficient soil for a construction site.



A soil test provides basic information on the composition of the soil and its ability to support a structure; as well as the absorption and drainage rate of the soil.



The absorption rate will give homeowners an idea on how well the soil will accommodate septic and water. The type of soil on your site will determine the drainage rate.



Keep in mind: sands and gravel drain better than clays and silts
---
tips
adding on to your home or remodeling it, you only have one opportunity to do it right.



plan This is one of your best investments and easiest ways to avoid mistakes you might regret in the future.



insulation It is almost always cost-effective to exceed building energy and insulation codes.



piping To reduce energy and water waste and keep your hot water warmer in between uses, insulate hot water pipes along their entire length.



plumbing To save water, reduce hot water distribution losses, and get you the hot water quicker, install low flow toilets, showerheads and faucet aerators.



siding and roofing Side and roof with light-colored materials to reduce heat gain.



ventilation Locate operable windows or vents both high and low so that excessive warm air can escape naturally.



water heater Get a well-insulated unit when buying a conventional model. Set your thermostat no higher than 120 degrees.